Carol Tuttle presents the Dressing
Your Truth Anti-aging Skin Care Line
Your skin is aging prematurely.
Now it doesn't
have to anymore.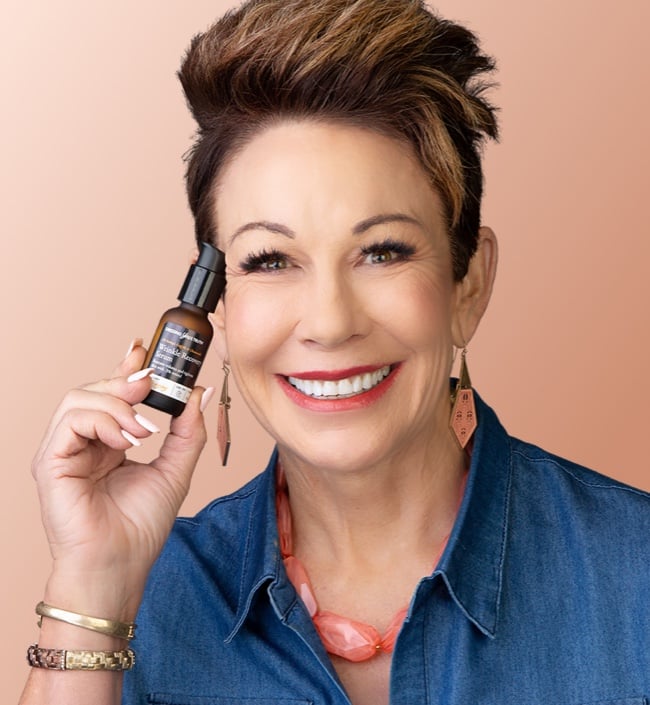 I de-aged myself.
I'll show you how to do it, too.
In my early 50s, after years of sun damage and neglect, my skin was aging faster than I believed it had to. I thought the only things I could do were fillers and Botox. I tried them and realized that they didn't repair damaged skin.

So I set out to learn other ways to slow down the visible aging process. My goal was not to look "younger," but to be the healthiest version of myself at my age.

I spent 10 years researching, learning, and making key lifestyle changes to tap into my skin's natural regenerative power. In all those changes, one of the most important components I used was supportive skincare. I personally used dozens of different products and spent thousands of dollars to find what works. (And what really doesn't!)

It's been worth all the time and money not only because I have healthy skin, but because now I can help YOU.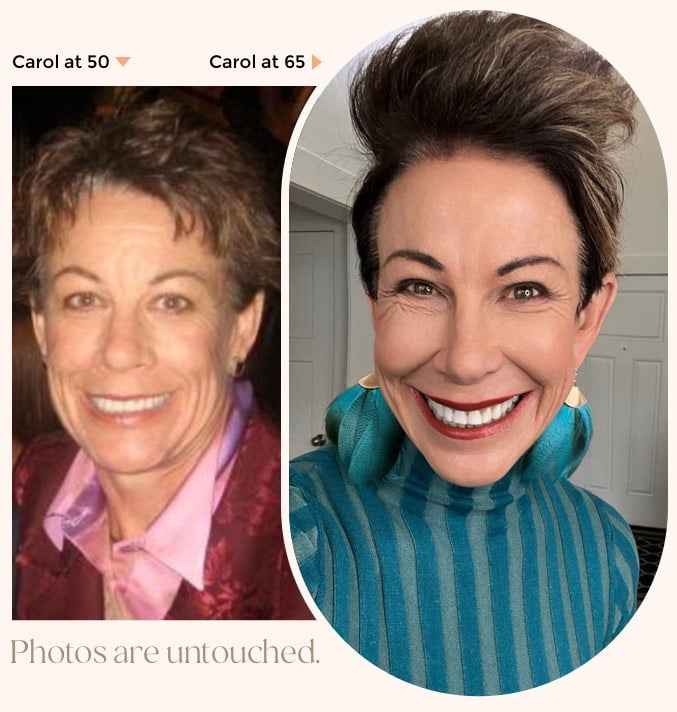 I'm thrilled to share with you my anti-aging product line.
These products are essential in my personal skin-health regimen and I use them every day. I am so excited to help you simplify your skincare routine and get powerful results from the most essential ingredients your skin needs. Shop products
To have healthy skin, you need to care for three conditions. Most women are dealing with at least one of these issues—or even all three!
Volume

Sagging, drooping

Elasticity

Increased wrinkles

Pigmentation

Age spots, discoloration
My anti-aging line contains the heavy-hitting ingredients you need to rebuild the look of volume and elasticity, as well as clear your complexion.
Get the full anti-aging skincare collection
Bring life into your skin with my daily routine
Morning Routine
Evening Routine
after cleansing skin
Specialty
Add-On Products
01

Anti-Aging
Body Lotion

This bakuchiol-enriched lotion is the best natural retinol alternative to improve the appearance of crepey skin, age spots, fine lines, and wrinkles.

key ingredients:

Bakuchiol
Haematococcus Pluvialis
Pisum Sativum
Hyaluronic Acid

Purchase

02

Purifying Charcoal Mask

This clarifying mask is a powerful combination of charcoal and three triple-action clays that will leave your skin glowing, moisturized, and nourished.

key ingredients:

Peptides
Citric Acid
Anti-inflammatory Botanical: Bergamot Oil

Purchase
Results experienced by real women.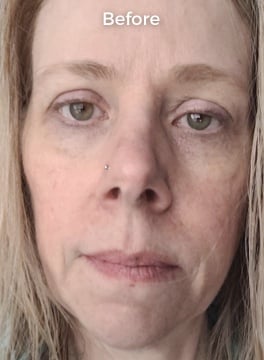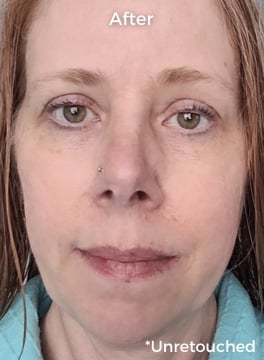 "These photos are 30 days apart in the exact same lighting. I am seeing my skin brighten and become more even. It feels plumper and more hydrated. My type 2 jowls are not as pronounced. And my neck is smoothing out. My skin is very sensitive and I have had no sensitivity issues with this line. This 52 year old is a happy Type 2."— Lisa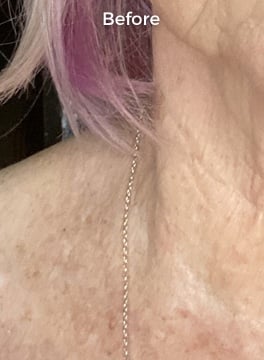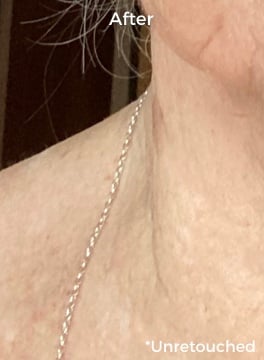 "I love these products... my 74 year old skin looks amazing and friends have noticed and asked about the products! My favorite product is the neck cream. It's wonderful to finally have a product especially for that area to use day and night. I can see the difference!"— Kandi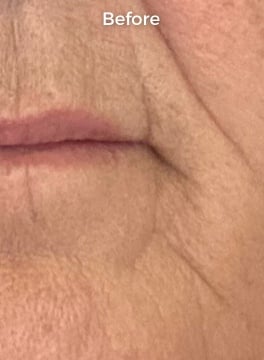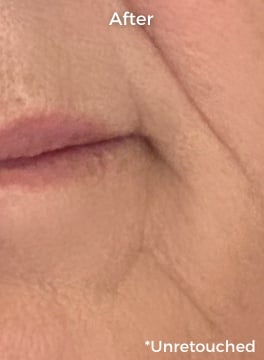 "My skin was old looking and now feeling fresher and softer. I love the Face Smoothing Exfoliator - it seems to be taking layers off and lessening the pigmentation."— Karen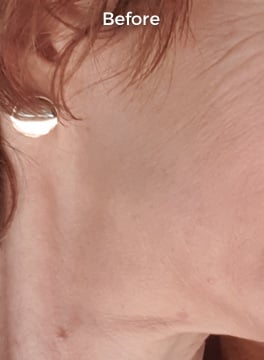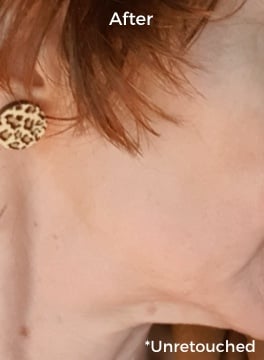 "My skin was dry, starting to sag, fine and deep lines. Now it's starting to look fuller and plump. I like the microfibre cloth & exfoliator - my skin is so clean. It's never felt this clean. Brightening serum has reduced the redness over my nose."— Elena
ONLY THE BEST
FOR YOUR SKIN
All of our products are formulated by chemists in the United States using the highest quality ingredients from around the world. These potent formulations combine anti-aging ingredients with natural botanicals.
*All skincare products are vegan. Collagen Peptides Powder supplement is not.
No more cupboards full of expensive products that don't get you results.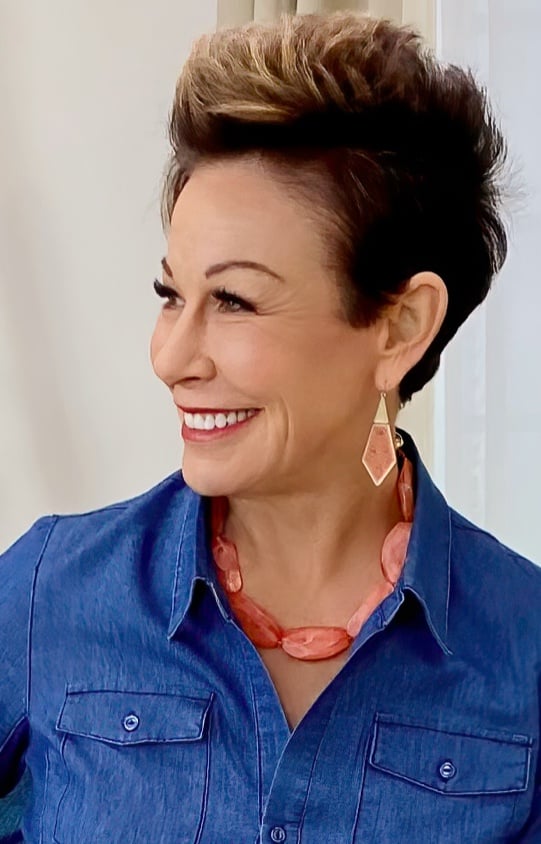 Over the years, I've spent a lot of money looking for the right products to support my skin. It got expensive!

With so many options out there, trying to find what works can clutter up your bathroom counter with products you end up not even using.

At one point, I had a cupboard full of almost two dozen products.

Now, my daily routine consists of only seven products - and they all get results.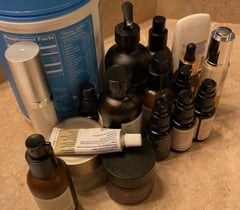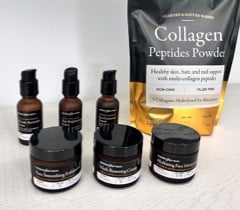 I'm excited for you to bring life back into your skin, like I did.

I created these premium products with both botanicals and potent anti-aging ingredients to make it simple for you.

Growing older is unavoidable. How you age is a choice.

Bless You,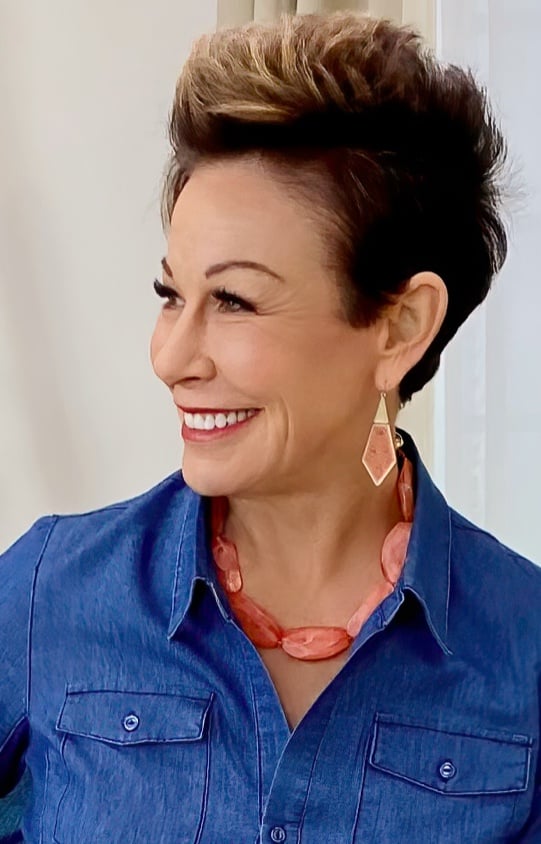 FAQs
Carol, have you ever had a face lift?

I have not.

I have learned how to restore my skin's volume and elasticity, as well as clear up my complexion over the last 10 years.

Over the years, I've openly shared in videos the resources I've used to restore health and vitality to my skin. Inner healing, diet, and sun protection are big players. I have used more advanced new technologies called Profound and eMatrix which penetrate the skin at a deep level with heat to activate your collagen to reboot itself. I have done micro needling using stem cells and PRF to feed my collagen and skin cells. I have faithfully used a collagen supplement daily for the last 7 years to rebuild my collagen. I have done my deepest and most profound healing the last 10 years. And I have used skin care products with the most effective ingredients.

You can see the top 5 things I did to reverse the aging process here:

https://my.liveyourtruth.com/dyt/how-i-reversed-the-aging-process/

If you choose to get a facelift, eye lift, veneers, use Botox and fillers, good for you. I hope you do it from a place of self-love rather than feeling inadequate and that you have to do it to love yourself.

I just chose a different path as a bio-hacking enthusiast and hobbyist. I wanted to see what my body and skin were capable of in restoring themselves.

You mentioned that you made key lifestyle changes, in addition to using skincare products. What changes did you make?

Every day, the choices you make either support your overall health or detract from it. Here are the big players in my personal process:

1. Inner healing. I have done my deepest and most profound healing the last 10 years. You can use the techniques I personally use here:

healwithcarol.com/anti-aging

2. Dietary choices. I am intentional and balanced with what I eat. Ever since I discovered collagen peptide powder, I have faithfully taken a collagen supplement daily to rebuild my skin's volume and fortify the rest of my body. I recommend my

Collagen Peptides Powder

.

3. Sun protection. Sun damage ages your skin fast. When I'm outside, I wear a wide-brimmed hat that shades my face, neck, and decolletage. I've also cared for many other aspects of my health. Read 15 tips I recommend here:

https://my.liveyourtruth.com/dyt/how-to-look-younger-tips-for-women-over-60/

How long before I see results?

You will start feeling a difference in your skin right from the beginning. These products are made of high-quality ingredients that immediately feel good on your skin.
Seeing visible results obviously takes longer than that, especially if your skin's appearance is damaged. Take a photo before you start using these skincare products and then mark the change after 1 month and 3 months of consistent use. Results will continue as you continue to care for your skin.
If you do not have visible damage to repair, I highly recommend that you care for your skin now to support your skin's health in advance and to slow down the aging process. While you may not see dramatic before-and-after changes of aging in reverse, you will definitely experience more vibrant skin, rather than some of the visible, commonly expected effects of age.

Do these products really work? There is no magic cream that fixes everything.

In my conversations with many women on aging and skincare, I've noticed a few things:
1. Women are not informed about what is available and what to do to repair and restore their skin's appearance. They often assume that if a woman's skin looks younger, she used botox and fillers. I'm here to tell you that there are many more resources than that!

2. There is a ton of skepticism and doubt about skin before and afters. Understandably, as there is a lot of hype.

3. People assume a lot. My intention is to help you learn more about your skin and your options and support you in choosing what is correct for you.
Reversing the visible effects of aging has been a 10-year process for me, starting in my early 50s. It started with changing my beliefs and loving myself no matter how I looked. After that, I have addressed many layers to my health, incorporating strategies beyond topical creams. Unhealthy skin is evidence of a lack of health on many levels. I've restored my health on all those levels.
Yes, they do work, which is why I'm sharing them. And yes, they need to be a component in your healthy lifestyle in order to experience their full benefit.

I have sensitive skin. Which products should I use?

All Dressing Your Truth Anti-aging Skincare products will work for sensitive skin. Members of my community who have sensitive skin have reported great success with all of them.
The entire skincare line is paraben-free, sulfate-free, silicone-free, talc-free, cruelty-free and vegan. If you've had any reaction to certain ingredients in the past, check the ingredients for these product. A full ingredient list is posted clearly under each product in our store.
An important note on the #1 dermatologist-recommended ingredient: Retinoids are a compound related to Vitamin A. There are 11 different kinds. While they are potent, some can be harsher on your skin than others. The Wrinkle Recovery Serum and Smoothing Neck Cream contain retinyl palmitate, a less irritating version of its more famous cousin retinol. If your skin is sensitive, consider using these products only a few times a week in the beginning. If your skin responds well, you can work up to using them daily.

What do I do if my skin experiences any redness with these products?

Retinoids are the #1 dermatologist-recommended ingredient for aging skin because they speed up cell turnover and stimulate collagen. Retinyl palmitate is a key ingredient in both the Wrinkle Recovery Serum and Neck Restoring Cream. If you experience any redness when you start to use either, the retinyl palmitate is working, but your skin's response shows that you need to cut down frequency of application to let your skin acclimate.

For first use, apply a thin layer, and wait a few days to evaluate your skin's response. If you have no visible reaction, repeat application. If your skin experiences redness, use once a week for 1 week, then twice a week for 2 weeks, building up to daily usage over time. Any continued redness or dryness is an indication to use smaller amounts or lower frequency as your skin gets use to this beneficial anti-aging ingredient.

Retinoids have a sloughing effect. Use the Face Smoothing Exfoliator to remove dead skin cells and take advantage of its soothing effect.

Do your products contain fragrance?

Most of the products in the Dressing Your Truth Anti-aging Skincare line have minimal scent or none at all. A few do have a noticeable fragrance:
The Skin Brightening Serum contains natural orange oil, which gives it a gentle citrus scent.
The Face Smoothing Exfoliator contains the following extracts that give it a pleasant botanical scent: anise, coconut, raspberry, vanilla, cucumber melon, pineapple, and apricot.

What's the difference between dehydrated and dry skin?

At the most basic level, dehydrated skin has a lack of water and dry skin has a lack of oil.
If your skin is dehydrated, your skin cells do not have access to enough water, most likely because you're not drinking enough water, but possibly also because of climate, caffeine, diet, or other factors. Dehydrated skin will benefit from sodium hyaluronate, which helps bind water and retain moisture. You can find this ingredient in the Wrinkle Recovery Serum.
Dry skin is a surface issue. The sebum or oil that your skin produces holds the surface cells together. If less oil is produced than needed, the skin cracks, flakes, and peels. To solve this issue, you need products that don't strip the skin's natural moisture and add oils that support your skin's equilibrium. The Face Smoothing Exfoliator gently removes dead, dry skin cells. But because it contains castor oil, instead of leaving skin raw and dried out, it moisturizes and smooths.

What cleanser do you recommend?

I personally use the face smoothing exfoliator to cleanse my face in the morning and the Microfiber Cleansing Cloth to remove my makeup in the evening. The microfiber cloth works well with only water. I personally do not use another cleanser, but you may use your own preferred cleanser in addition to these products if you would like.

Do you offer a moisturizer?

The serums in my skincare line (

Skin Brightening

,

Eye Corrector

, and

Wrinkle Recovery

) offer enough hydration for most skin types, so you may not even need a moisturizer. However, if your skin feels dry, you may wish to use your preferred moisturizer after you have applied serum to your face.

What is your return policy?

I'm so confident you'll love these products that I give you a 30-day window to be sure. You can return any product for up to 30 days after your purchase. Please reach out to

support@lythelp.com

with questions.

I'm excited for you to have a similar experience to what one woman shared:

"I am really impressed and excited about Carol's new skincare products, and I saw a big difference in my skin right away. I had dry areas and oily areas, and now my face just feels really even, healthy, and silky smooth all over. I was surprised by the results of using the Face Smoothing Exfoliator, as scrubs would always leave my face feeling raw and red, but with this product, it feels nourished and incredibly soft. Nourishing would be the word for each of these products. I feel like I'm feeding my skin exactly what it's been craving, and its gratitude shows."

—Lauri